Ipe Reston
If your looking for deck boards you've no doubt heard of ipe decking. Maybe you've heard that it's a very hard wood that looks spectacular and that rarely has a knot. Perhaps you've heard that ipe deck boards can last 75 years or more without being treated. You've probably heard that it's the strongest wood commonly used for decking. All of these things are true.
Yes, ipe is beautiful, long lasting and strong. But did you know that ipe decking is also economical? did you know that ipe decking is resistant to wood eating insects, fungus, rot, and even fire?
How can untreated natural wood boast all these features that man-made decking can't even touch? Ipe's success lies in two key characteristics: its density and the naturally occurring oils that impregnate the wood.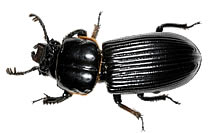 These factors help the tree to survive the harsh conditions of the Brazilian rainforest. If you thinks there's a lot of insects and moisture in Fairfax county, just take a look at what lurks in the South American jungles, for instance the Metallic Wood Boring Beetle of Brazil.
Here's a break down of the features of Ipe Decking and some of the weaknesses of other decking materials:
Ipe Decking is resistant to fungus because the oils that occur inside inhibit fungal growth and repel water.

Composite decks are made with wood pulp, like a paper towel, so they suck up water and hold it. This can cause it to loose it's shape and split.

Ipe deck boards are durable. They can easily last over 75 years without any treatment of any kind. It will weather to a beautiful silvery color, but some people go ahead and treat it to keep that brand new dark brown look.

Pressure treated pine - it depends on if you seal it every year. If you don't it's only going to last a few years.
Composite decking - depends on if it gets wet and how wet. This is why they keep getting sued for failing to honor their warranties.
PVC decking - It may be ugly and made with cancer causing materials but it'll last a long time as long it's out of the sun, although nowhere near as long as ipe, and it costs a little more too.

Ipe Decking is environmentally friendly.

That's because it comes from the strictly controlled sustainable forests of Brazil. Only the right trees are selectively harvested, it's never clear cut, replanting is taken very seriously.
Composites, pressure treated, and man-made deck boards all use harmful chemicals (some cause cancer) that leech into to the ground. Do you want your kids rolling around on something that causes cancer?

Ipe Decking is resistant to wood eating and wood boring insects. It gets this resistance from it's super hard density and it's natural oils which are sometimes used as pesticides and topical medicines in other parts of the world.
Ipe decking is economical. We aren't trying to say that ipe deck boards cost less per board foot than any other deck boards. It costs less than some and more than others. What we are saying is that the cost of replacing boards, especially if you are paying someone to do it, is significant, and if you don't have to replace your deck boards every few years, you save a lot of money.